Power module for Raspberry Pi and Telemetry Connect
{{ errors.first('quantity') }}
Description
Currently, the product is out of stock!
(Pre Order) Estimated availability Date: April 15, 2020
Orders placed after March 12, 2020 will be changed to Pre Order
Sorry for the inconvenience.

The most important component for the stable operation of the Companion computer is the power supply. Experience has shown that most problems, such as instability, frequent errors and crashes, are due to an unreliable power supply.
And on drone, electric power is fluctuated and noise by the device like ESC, motor, servo....So, stable power supply for companion computer on drone is the challenges
Stable Power Module is professionally designed with power IC 5V-5A to provide stable power for Companion computer as well as peripheral devices. It also has a built-in Serial port for connecting Companion computer and flight control. All connector in Stable Power Module is dronecode standard (JST GH and Molex Clik-Mate).
It compatible with all companion computer which have Rasp Pi pinout (2x20 2.54mm): Rasp Pi Zero W, Rasp Pi 3, Odroid C2, Rock64, Pine A64-LTS, Orange Pi Plus2, Le Potato, Banana Pi M64, Tinker Board S, Rock Pi 4 Model B ...
This package includes:
1 x Stable Power Moulde
Header
1 x Serial Cable
1 x Battery Cable (Molex CLIK-Mate to JST-Female Battery)
1 x Molex CLIK-Mate to Bare (You can solder Connector Battery or Peripheral)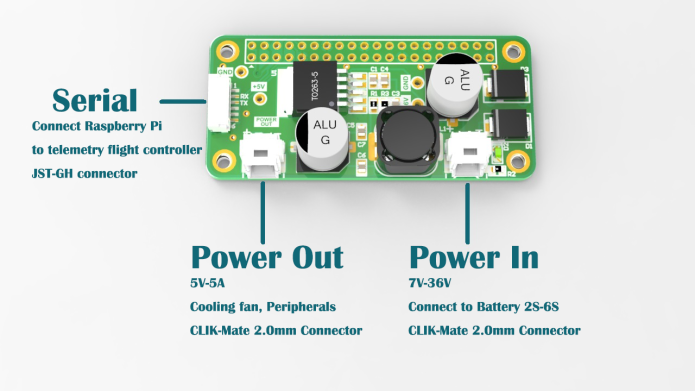 Compatible with all Rasp Pi models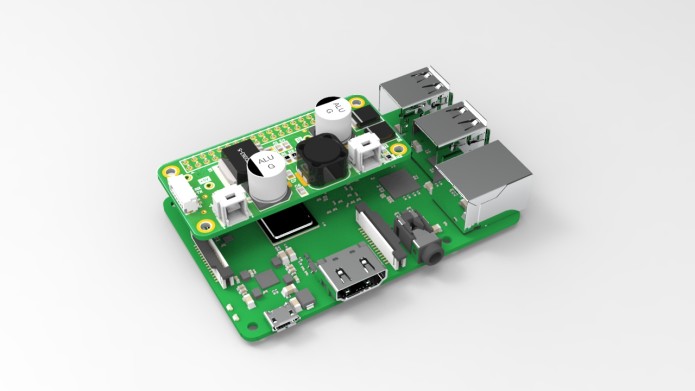 Compatible with Odroid-C2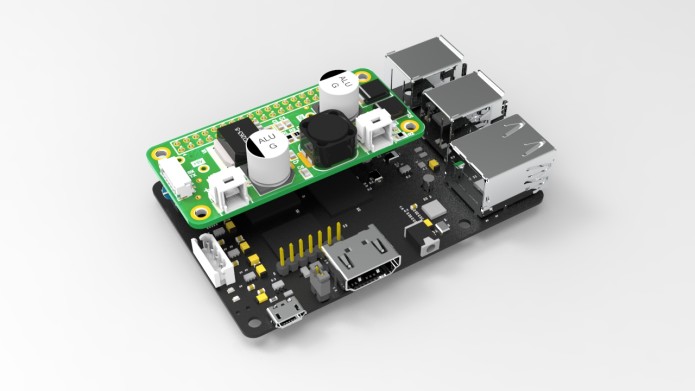 Dimension (L x W x H)
60 x 35 x 15 mm
Weight
21gram
Power Input
7 to 36V power input (CLIK-Mate 2.00mm)
Power Out

5V/5A for

+ Rasp Pi (Jump 2.54mm)

+Cooling fan, Peripherals (CLIK-Mate 2.00mm)
Features

+ Serial port (JST-GH)

+ Reverse voltage protection

+ Resist fluctuated, noise of electric power

+ Green Led Indicator Power

Compatible

Compatibale with all companion computer which have Rasp Pi pinout (2x20 2.54mm)

All Raspberry Pi models
ODROID-C2
Rock64
Pine A64-LTS
Orange Pi Plus2
Le Potato
Banana Pi M64
Tinker Board S
Rock Pi 4 Model B
Specification